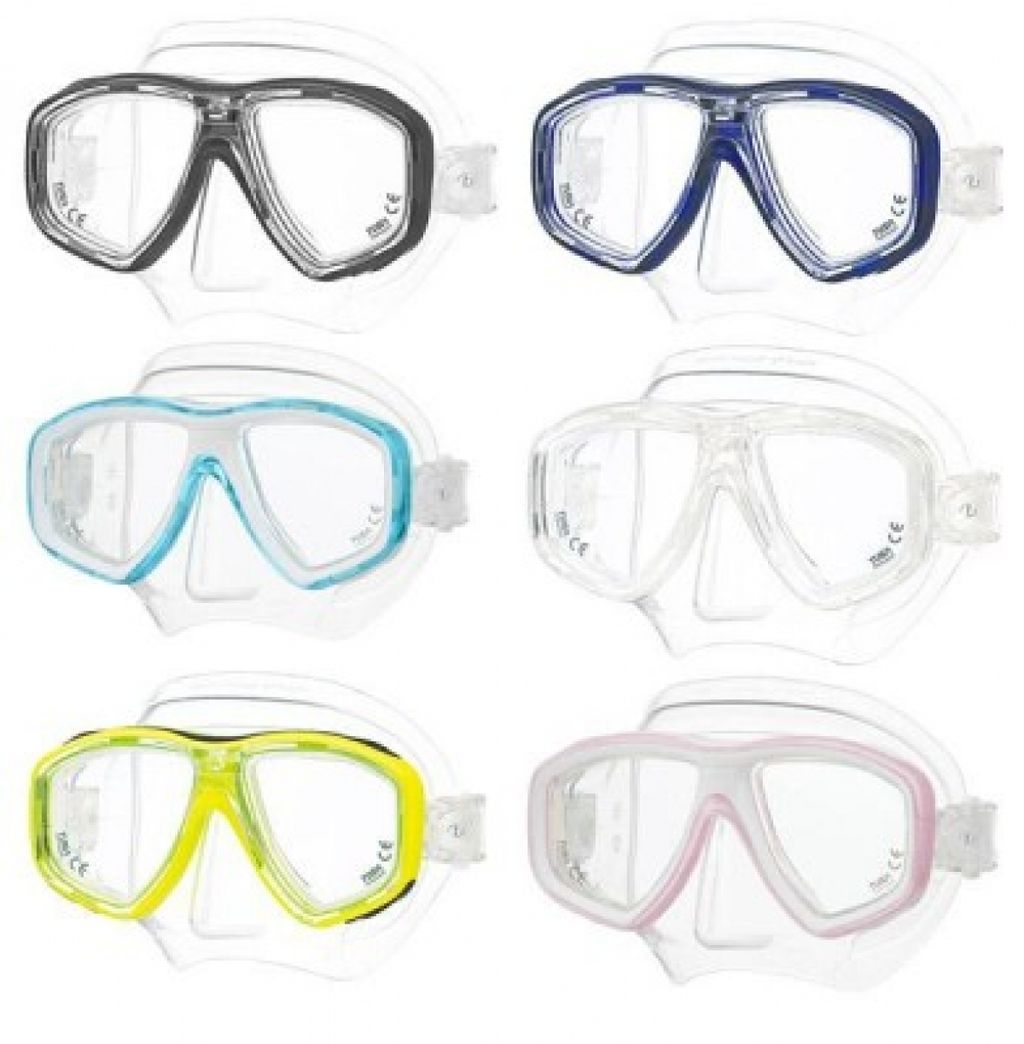 Tusa Ceos Transparent Mask
Details for Tusa Ceos Transparent

Tusa Ceos Transparent:

The M-212 Ceos is a low-profile low volume two window mask that features the newly developed and revolutionary Freedom Technology delivering superior fit, comfort and performance.

The Ceos is one of the first next generation TUSA masks offering this innovative new technology combined with superior design, build quality, materials and frame construction.
...
In addition to Freedom Technology, the M-212 features TUSA's patented Quick-Adjust Buckle System, 3-D Anatomical Strap, Round-Edge skirt technologies and is available in a PRO version (M-212S) with CrystalView optical glass lenses treated with a proprietary anti-reflective (A/R) and ultraviolet (U/V) coating.


Features:

- Low profile, low-volume 2-window teardrop design

- Equipped with Freedom Technology

- Skirt mounted Quick-Adjust Buckle System

- Round-edge skirt for maximum fit and comfort

- 3-D strap for ideal anatomical fit

- Accepts MC-7500 Corrective Lenses and ML-7500S AR/UV lenses

- PRO Version (M-212S) with CrystalView AR/UV lenses

- Colors: Black (BK), Cobalt Blue (CBL), Flash Yellow (FY), Pearlescent Pink (PP), Siesta Green (SG), Translucent/Black (T/BK)

- Black Silicone: Black (QB-BK), Metallic Dark Red/Black (QB-BK/MDR), Siesta Green/Black (QB-BK/SG)

- PRO Version (M-212S) with CrystalView AR/UV: Black (SQB-BK), Metallic Dark Red/Black (SQB-BK/MDR)


Technology:

Freedom:

Freedom technology is a set of revolutionary features offering superior fit, comfort and increased performance in TUSA masks. Freedom model masks feature a dimpled skirt surface with varied silicone thicknesses and stability ridges in addition to a proprietary low-friction skirt surface on the fitting line.

CrystalView Optical Glass:

CrystalView optical glass lenses provide superior clarity, color and transmission of light over standard glass lenses used by the competition. Up to 15% of available light can be lost with a standard glass lens due to impurities and reflectivity. TUSA's CrystalView lenses transmit 92% of available light to the diver for clear crisp vision. CrystalView lenses are used in all PRO models masks and also in the M-41 Freedom Quad.

UV Lens Treatment:

Increased exposure to UV light can damage the eyes especially in marine environments where reflectivity is high. TUSA's UV Lens Treatment provides 100% protection from harmful UVA and UVB rays. Blocking 100% of the ultraviolet spectrum (under 400nm) provides greater eye protection without sacrificing light transmission or vision.

Anti-Reflective (A/R) Lens Treatment:

Standard glass lenses can reflect up to 15% of available light reducing vision underwater. TUSA's Anti-Reflective (A/R) Lens Treatment decreases internal and external reflected light. This reduction increases light transmission to 95% resulting in significantly enhanced color, clarity, contrast and better overall vision underwater.

Skirt Mounted Quick-Adjust Buckle System:

The Quick-Adjust Buckle System incorporates a newly-designed low-profile buckle into the crystal silicone skirt of the mask. The result is a compact, lightweight, technologically advanced mask design that can be easily and quickly adjusted for a perfect fit.

Round Edge Skirt:

TUSAs Round Edge Skirt features a proprietary round edge cross-sectionally shaped skirt. This rounded edge results in a soft fit that suppresses pressure and reduces creasing left on the face. The 'planar fit, instead of linear fit' silicone skirt maintains great fit and unprecedented comfort.

3-D Strap:

TUSAs patented 3-D strap is a true three-dimensional design that snugly fits against the heads natural curvature. The 3-D strap offers unprecedented comfort and fit unlike standard flat mask straps.
Boxed-product dimensions: 10cm x 12cm x 20cm
Product weight: 0.30 Kg.
EAN retail barcodes: 4983608463575
Item model number: TU-M-212-BK
Face shape :standard
Please whatsapp to +60192867180 To Check Stock Availability Before Purchase
Do you prefer buy at shopee .
Do visit our shop at shopee .
https://shopee.com.my/coraldiverecreation.
we also have 3 months instalment via pace payment with 0 % interest
please whatsapp to +60192867180 or email to [email protected] for info
Please take note if buyer(s) need more infomation about products / trips / courses , kindly please email to [email protected] or whatsapp to +60192867180 .
for non malaysia address . we will post by DHL / UPS / Fdex / ARAMEX and TNT but buyer(s) need to pay additonal charge for postage .we will post worldwide .more info please email to us .
Customer comments
| Author/Date | Rating | Comment |
| --- | --- | --- |