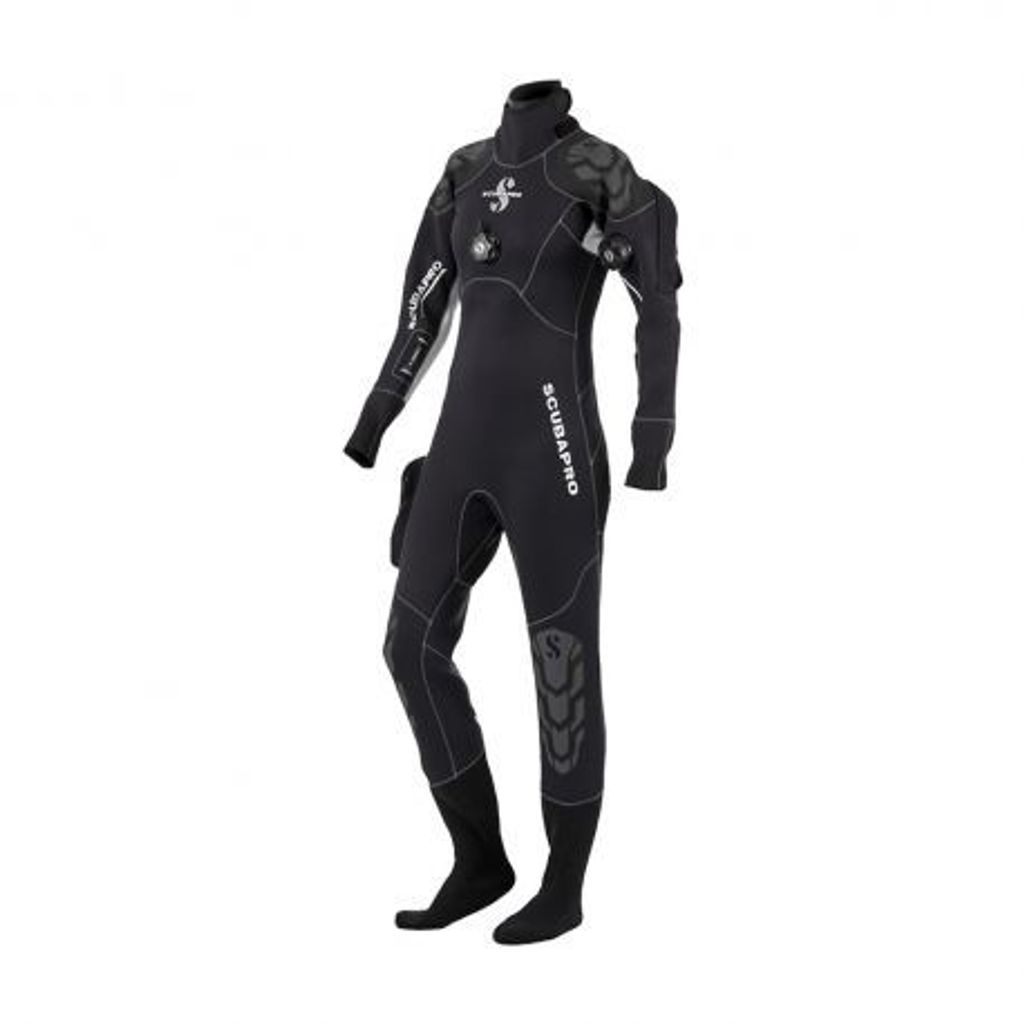 Scubapro Everdry 4 Woman Dry Suit
Scubapro Everdry 4 Dry Suit
STREAMLINED, WARM AND WATERTIGHT
Diving in a drysuit means you're always warm and comfy, no matter how cold the water.
The EVERDRY 4 offers the streamlined fit, comfort and flexibility of a wetsuit, with the thermal properties and water-tightness of a drysuit.
The EVERDRY 4 offers the ultimate in neoprene drysuit technology. It is constructed of 4mm high-density neoprene sandwiched between layers of nylon jersey -- the heavier outside layer is designed to withstand abrasion, the lighter inside layer is more for comfort.
Seams are triple-glued and double-thread blind-stitched on the outside; the inside is coated with a liquid polymer that penetrates the nylon layer and fuses to the neoprene, creating an extremely durable and waterproof seam.
The EVERDRY 4's neoprene is able to resist compression at depth. This means you won't experience huge shifts in buoyancy as you descend, minimizing the amount of ballast you'll need to carry. It also means you won't lose as much of the suit's inherent thermal properties, so you don't need to wear as much in the way of undergarments. In fact, the EVERDRY 4 is designed to be worn with either a very thin undergarment or no undergarment at all. This enables you to enjoy a snug-fitting, streamlined suit as you're kicking through the water.
The EVERDRY 4 features a first-rate neoprene neck seal that is smooth-skin on the outside and nylon jersey on the inside. Because of this, you can easily slip the suit over your head without any hair-pulling, then by folding the smooth-skin under you create a large-surface-area seal against your neck. Wrist seals use straight smooth-skin neoprene to achieve their watertight seals, and on the lower extremities attached neoprene soft socks can be used with drysuit boots or standard neoprene dive boots.
The large kneepads are built tough to protect even the most avid bottom crawlers. The cargo hip pocket is sized right, easy to reach, and offers a zippered closure to keep contents secure. And the adjustable suspenders just make wearing a drysuit that much easier, both at depth and on the surface.
Built for comfort, convenience and extended wear, theEVERDRY 4 fits like a glove, offers excellent range of motion, and most importantly, keeps your body heat in and the cold water out.

Technical Information
4mm high-density neoprene weighs 50% less and is significantly softer than traditional drysuit neoprene.
Seams are triple-glued and double-thread blind-stitched on the outside; inside they are coated with liquid polymer to create a long-lasting waterproof seam.
Smooth-skin fold-under neoprene neck seal and straight smooth-skin wrist seals provide comfortable, watertight sealing surfaces.
Heavy-duty YKK drysuit zipper is covered by a neoprene overflap for added protection.
Si-Tech balanced side-activated inlet and adjustable outlet valves allow for pinpoint buoyancy control, increasing comfort and control at depth.
Attached neoprene soft socks enable the suit to be turned completely inside-out for cleaning and drying.
Neoprene soft socks can be worn inside heavy-duty drysuit boots or standard neoprene dive boots.
Removable suspender system enhances fit and provides convenient lower suit support between dives.
Handy right-thigh utility pocket with zippered closure provides a secure spot for carrying accessories.
Heavy-duty kneepads cover a lot of leg area for maximum anti-abrasion protection.
Includes a 4/5mm anatomically shaped hood, carry bag, repair kit, zipper wax and owners manual.
Available in 10 mens sizes in Black/Gray, and in 6 womens sizes in Black.
Do you prefer buy at shopee .
Do visit our shop at shopee .
https://shopee.com.my/coraldiverecreation.
we also have 3 months instalment via pace payment with 0 % interest
please whatsapp to +60192867180 or email to [email protected] for info
Please take note if buyer(s) need more infomation about products / trips / courses , kindly please email to [email protected] or whatsapp to +60192867180 .
for non malaysia address . we will post by DHL / UPS / Fdex / ARAMEX and TNT but buyer(s) need to pay additonal charge for postage .we will post worldwide .more info please email to us .
Customer comments
| Author/Date | Rating | Comment |
| --- | --- | --- |