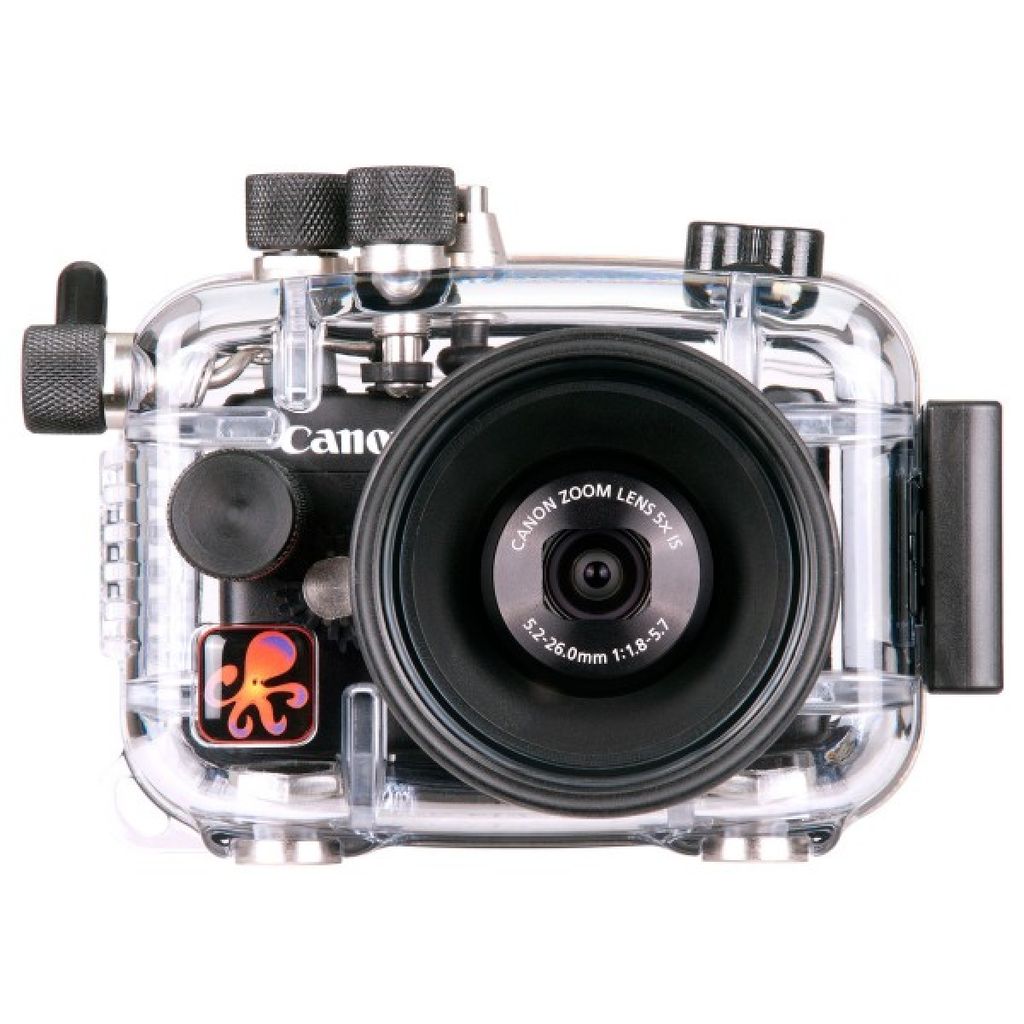 Ikelite Waterproof Housing for Canon Powershot S120
Perfectly proportioned.
The Ikelite housing for the Canon Canon Powershot S120 is just-right-sized for carefree travel and a comfortable hold with or without a thick glove. All important camera functions are at your finger tips using a series of heavy duty, custom made mechanical controls. The housing is balanced perfectly for reduced possibility of fogging due to trapped moisture and superior buoyancy control—especially important for shooting steady HD video. Expand your system by adding an AF35 AutoFlash strobe or optional tray with release handle(s), attached with two screws for quick break-down during travel.
Clearly superior strength and assurance.
Special polycarbonate blends allow us to create an extremely strong yet clear and lightweight enclosure. We believe there's no substitute for inspecting the actual o-ring seal once your housing is closed. Our signature clear construction lets you see that the housing is watertight and dry before you enter the water, and provides full view of the camera while you're diving. Polycarbonate is fundamentally corrosion-resistant for easy maintenance year after year.
Unleash your creativity with wide angle and macro options.
An optional wide angle lens allows you to capture more of the scene by increasing your camera's native angle of coverage. The W-30 is specifically designed for digital cameras with 28mm focal length and wider, and provides improved permeability, clarity and brightness over similar external wide angle lenses. There's no need to limit yourself to wide angle for an entire dive, as the W-30 lens can be easily removed and replaced underwater. 67mm threaded close-up lenses also attach directly to the front of the port, no adapter needed. Slight vignetting (shading in the corners) will be present when using an external wide angle lens.
Quality in engineering, manufacturing and service.
Like every Ikelite product, this housing for the Canon Powershot S120 is designed, built and tested in the USA. We use locally sourced, top-grade materials from trusted vendors we've been working with for decades. Our housings are built by hand and individually tested for fit, function and waterproof integrity. The average assembly technician is a certified scuba diver and has over 16 years of experience building Ikelite products. We back our products with over 50 years of experience and service within the dive industry.
Recommended Accessories
AF35 Autoflash W-30 wide Angle Lens Color Correcting Filters
Product No 4035 Product No 6430 6441.46 Blue Water Includes everything you Crisp and bright wide angle 6441.86 Green Water need to add a flash to this lens attaches directly to the For realistic colors when system. Powerful and reliable front of the port and can be shooting without a strobe. optical TTL triggering. removed and replaced underwater.
Gamma LED Light
Gamma Mount Kit
Tray with Handle
LED all-purpose lighting Product No 1887.4 Great for handling and suitable for use as a focus or Includes diffuser and mount attachment of non-AF35 video light. to attach a Gamma light lighting. to the AF35 arm.
Controls: All important camera controls. Controls are not provided for Flash-up Switch or rear Control Dial. Control dial functions can be accessed using up/down and left/right navigation. Flash should be extended prior to placement in the housing.
Width: 6.2 in (157 mm) including controls
Height: 4.4 in (112 mm) including controls
Depth: 4.4 in (112 mm) including controls
Buoyancy: Neutral buoyancy in fresh water
Depth Rating: 200 ft (60 m)
Strobe Connection: Optical Trigger
Tray Mounting: 12-24 thread with 3 in spacing (76 mm)
Port Diameter: 3.0 in (76 mm)
Color Filters: 6441.41 Blue Water
6441.81 Green Water
Use 46mm Threaded Lenses: No
Use 67mm Threaded Lenses: Yes
Use WD-4 Wide Angle Dome: No
Includes:
Ikelite Housing
Port Cover
Control Ring Gear
Flash Diffuser
Flash Deflector
Silicone Lubricant
Spare Parts:
5020 Silicone lubricant
9523.10 Mounting hardware 12-24 x 1/2 in
Please whatsapp to +60192867180 To Check Stock Availability Before Purchase
Do you prefer buy at shopee .
Do visit our shop at shopee .
https://shopee.com.my/coraldiverecreation.
we also have 3 months instalment via pace payment with 0 % interest
please whatsapp to +60192867180 or email to [email protected] for info
Please take note if buyer(s) need more infomation about products / trips / courses , kindly please email to [email protected] or whatsapp to +60192867180 .
for non malaysia address . we will post by DHL / UPS / Fdex / ARAMEX and TNT but buyer(s) need to pay additonal charge for postage .we will post worldwide .more info please email to us .
Customer comments
| Author/Date | Rating | Comment |
| --- | --- | --- |